Details

Written by Annie Robbins

Annie Robbins

Published: 21 August 2014

21 August 2014

Hits: 3336

3336
A Jewish graduate student at Harvard posting virulently anti-Semitic comments at various internet forums, allegedly "to gauge how pervasive anti-Semitism" is online, has been busted by the progressive website Common Dreams (CD).
Investigative journalist Lance Tapley leaves few stones unturned in his report "The Double Identity of an 'Anti-Semitic' Commenter" except the identity of the culprit. "Let's call the student Jason Beck", Tapley says, protecting the perpetrator.
Read more: 'Common Dreams' website traps Hasbara troll spewing anti-Semitism
Details

Written by Richard Falk and Akbar Ganji on Al Jazeera

Richard Falk and Akbar Ganji on Al Jazeera

Published: 21 August 2014

21 August 2014

Hits: 2918

2918

Since 1948 Israel has drawn a long list of military aggression, human rights violations and war crimes.

Richard Falk is Albert G Milbank Professor Emeritus of International Law at Princeton University and Research Fellow, Orfalea Center of Global Studies. He is also Former UN Special Rapporteur on Palestinian human rights.

Akbar Ganji is one of Iran's leading political dissidents and has received over a dozen human rights awards for his efforts. Imprisoned in Iran until 2006, he is the author of The Road to Democracy in Iran, which lays out a strategy for a non-violent transition to democracy in Iran.


More than 2,000 Palestinians have been killed in Israel's latest offensive on Gaza [Getty Images]
Israel has become an outlaw state. In his book, The Law of Peoples, John Rawls defines an outlaw state as one that systematically violates the universal principles of human rights, and commits aggression against other nations. Israel is guilty of repeated such violations as well as several massive acts of aggression, making it reasonable and responsible to identify it as an outlaw state.

Read the rest on Al Jazeera: http://www.aljazeera.com/indepth/opinion/2014/08/outlaw-state-israel-part-i-2014819134157990462.html


Details

Written by Portland BDS Activists

Portland BDS Activists

Published: 20 August 2014

20 August 2014

Hits: 2605

2605
PLEASE SHARE THIS BDS ACTION BROADLY

Dear Friends:

There's a wave of really impressive actions going on across the country right now in support of the besieged, harassed, and murdered people of Gaza and Palestine, as well as those of Ferguson, MO. Solidarity marches, port blockades, and even Obama has made a first (although weak) show of reigning in arms exports to Israel.

Let's highlight a military/security business in our community that directly profits from the Occupation and Siege of Palestine, as well as incarceration, detention, and imperialism globally. Israel needs corporate support to maintain the Occupation and business as usual: the suffering, imprisonment and human rights abuse of Palestinians. We will rally to express our outrage with this business's choices, and with the invasion, occupation and siege of Gaza. This will be a low-risk action, with opportunities for deeper involvement if you want.

From Portland to Palestine and all those fighting for liberation:
No Justice, No Peace


DETAILS:

WHEN: 2:30 pm SHARP, Thurs, Aug 21st

WHERE: Meet at Pier 1 Imports parking lot (5331 SW Macadam Ave) -- This is NOT the targeted business

WHY: We are taking action to expose and pressure a BDS-targeted business that profits directly from the illegal Occupation of Palestine, siege of Gaza, and repression of Palestinians.

BRING: signs, chants, friends, and loud voices to resist the siege, Occupation, and state/corporate violence.

LEAVE: racist, islamophobic, and antisemitic slogans. Oppressive language and behavior are unwelcome, as they diminish inclusivity and harm the movement**


"BUT WAIT, YOU DIDN'T SAY WHERE WE'RE GOING"
Details of the protest, target and how it contributes to the Occupation will be discussed at the rally. Everyone loves a surprise!

RALLY AGAINST THE PROFITEERS:
END THE OCCUPATION
BREAK THE SIEGE

*BDS stands for Boycott, Divest, Boycott, Divestment and Sanctions (BDS) Movement--a call for global peaceful resistance to Israeli militarism, land theft, and other abuses of Palestinian human rights. This call, which comes from Palestinian civil society groups emulates the effective tactic used to undermine the economic benefit of Apartheid government of South Africa. Read more about it at http://www.bdsmovement.net/


** The struggle for justice in Palestine depends on a broad and diverse movement. By disavowing and challenging all forms of oppression we can make our actions more powerful and appealing, and less subject to distortions by pro-Israeli media

Statement disavowing antisemitism in Palestinian struggle: http://tinyurl.com/mggbqkr

Statement disequating Palestinian solidarity with antisemitism:
http://tinyurl.com/lypd653


Details

Written by One Land Many Voices, KBOO 90.7fm

One Land Many Voices, KBOO 90.7fm

Published: 20 August 2014

20 August 2014

Hits: 3173

3173
On Friday, August 22, 2014, One Land Many Voices welcomes Stanford University Professor Joel Beinin and USCLA Professor Sandy Tolan to discuss the situation in Gaza since Israel began its bombardment and invasion of the occupied Palestinian enclave on July 7th, and the University of Illinois Urbana Champagne's decision to rescind its offer of a tenured position for Palestinian-American Professor Steven Salaita following Salaita's tweets against the bombing campaign.
Read more: On Land Many Voices: Joel Beinin and Sandy Tolan on KBOO 90.7fm
Details

Written by AUPHR

AUPHR

Published: 16 August 2014

16 August 2014

Hits: 3091

3091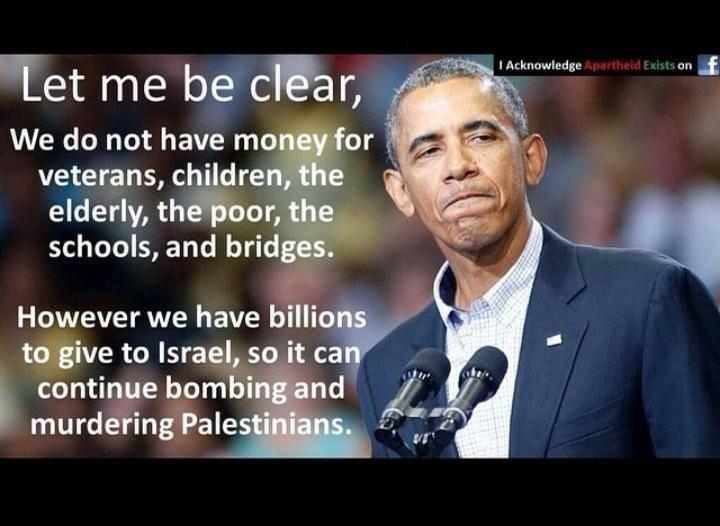 "Oh, and let's give American police heavy weapons and military gear while we're at it . . . "