Details

Written by Basem Tamimi with the Avaaz team

Basem Tamimi with the Avaaz team

Published: 25 January 2018

25 January 2018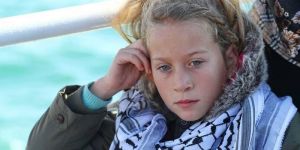 My 16-year-old daughter was dragged out of her bed in the dead of night and arrested. Even though she is just a child, the military refused to release her. She could spend years in jail. I have dedicated my life to civil resistance in Palestine. That's why the Israeli army is holding my baby -- they want to crush my spirit. All I want is to hold my daughter again. With one click, please join my appeal to get her out:



Dear friends, 
Days ago soldiers 
stormed my house in the dead of night and dragged my 16-year-old daughter to prison. 
Now my little girl is in a cold cell.
I have dedicated my life to civil resistance. That's why the army is holding my baby -- they want to crush our spirit. But I have been a member of Avaaz for eight years -- I h
ave seen the power of this community if we all stand together against injustice. 
My little girl's case goes to court on 31 January -- but Israel's military courts convict 99% of Palestinians, even if they are kids. 
Please join my urgent call below with one click 
-- we'll deliver it directly to global leaders: 
Help free my daughter Ahed
Read more: Message from Basem Tamimi: Help free my daughter Ahed
Details

Written by Sara Roy

Sara Roy

Published: 25 January 2018

25 January 2018
A potential calamity is looming in the Middle East, a calamity of the United States' making that is inimical to our interests and investments. I am referring to Donald Trump's decision to slash a promised installment of funding for the United Nations Relief and Works Agency (UNRWA)—the international agency responsible for the welfare of 5.6 million Palestinian refugees in Jordan, Lebanon, Syria, Gaza, and the West Bank—while effectively freezing additional funding for the foreseeable future.
The news dropped on January 16, when the State Department sent a letter to UNRWA announcing that it would be withholding $65 million of a planned $125 million payment to the agency. Two days later, the State Department announced that it would also be halting a $45 million payment it had pledged to UNRWA in December, in that case for food aid for the West Bank and Gaza. While a State Department spokesperson insisted that the cuts were "not aimed at punishing anyone," punishment certainly seemed to be on Trump's mind when he tweeted two weeks earlier, "with the Palestinians no longer willing to talk peace, why should we make any of these massive future payments to them?" The implication seemed clear: The Trump administration would slash aid to Palestinians as long as the Palestinian Authority (PA) refused to engage in US-backed negotiations with Israel.

It's worth pausing for a moment to consider that the PA's refusal to engage in negotiations stems entirely from Trump's own actions—specifically, his formal recognition of Jerusalem as Israel's capital; this move not only dismissed Palestinian claims to the city but effectively predetermined the outcome of future negotiations. Moreover, it should be noted that the entity through which the Trump administration is now exacting its punishment is a humanitarian agency, not a political one, and it has never been involved in any peace negotiations between Israel and the Palestinians. Yet, despite its vital role, the Trump administration has opted to slash UNRWA's resources, sparking what agency spokesperson Christopher Gunness described as "the most serious financial crisis in UNRWA's 70-year history."
This isn't hyperbole. The United States contributes almost 30 percent of UNRWA's annual budget, or $364 million a year. The loss of nearly a third of its budget, should the Trump administration continue to withhold payments, would force the agency to significantly scale back or suspend its services in many vital areas, or to move swiftly to persuade other donors to fill the gap. Even a partial defunding of UNRWA by the United States would have severe consequences.
Details

Written by Rashid Khalidi

Rashid Khalidi

Published: 08 December 2017

08 December 2017
Every time it seems Donald Trump cannot outdo himself, he does it again. Now he has announced that his administration will recognise Jerusalem as Israel's capital, reversing nearly seven decades of American policy. This step will have multiple negative ramifications, many impossible to predict.
Jerusalem is the most important of the so-called final status issues that have been repeatedly deferred during the Israel-Palestine negotiations because of their extreme sensitivity. Trump has ploughed into this imbroglio like a bull in a china shop, zeroing in on the most complex and emotional issue of all those connected to Palestine.
[From the Journal of Palestine Studies | The Ownership of the U.S. Embassy Site in Jerusalem]
Jerusalem is undoubtedly the most important aspect of the entire Palestine question. It has been central to the identity of Palestinian Muslims and Christians as far back as the founding moments of both religions, and has become even more so as the conflict over Palestine has become fiercer.
The rivalry over this holy city is exacerbated by the fact that the same site – the Haram al-Sharif to Muslims, the Temple Mount to Jews – is sacred to both. Because of its explosive nature, this is an issue that no Palestinian politician, and few Arab leaders, would dare to trifle with.
For someone such as me, whose family has lived in Jerusalem for hundreds of years, Trump's announcement does not just mean that the US has adopted the Israeli position that Jerusalem belongs exclusively to Israel. He has also retroactively legitimised Israel's seizure and military occupation of Arab East Jerusalem during the 1967 war, and its imposition of discriminatory laws on hundreds of thousands of Palestinians living there. The damage he has done will be permanent: the US cannot undo this recognition.
This act completely disqualifies the US from its longstanding role as broker, a position that Washington has monopolised for itself. So much for the pitiful "peace plan" that Trump's son-in-law Jared Kushner was cooking up and hoping to impose on the Palestinians.
Read more: Trump's Error on Jerusalem Is a Disaster for the Arab World… and the US Too
Details

Written by Yara Hawari

Yara Hawari

Published: 05 December 2017

05 December 2017
The term apartheid is often used to refer to the situation of the Palestinians under occupation. Al-Shabaka Policy Fellow Yara Hawari examines the application of the term to the Palestinian citizens of Israel by focusing on citizenship, land, education, and politics. She also discusses whether such analysis can advance this community's rights and counter fragmentation among Palestinians as a whole.
Details

Written by Ali Abunimah

Ali Abunimah

Published: 04 December 2017

04 December 2017
Key Israel lobby groups have conceded that they have failed to counter the Palestine solidarity movement, despite vastly increasing their spending. The admission is contained in a secret report that The Electronic Intifada has obtained.
The report, published here in full for the first time, outlines Israel's failure to stem the "impressive growth" and "significant successes" of the boycott, divestment and sanctions (BDS) movement for Palestinian rights.
It also sets out strategies, endorsed by the Israeli government, aimed at reversing the deterioration in Israel's position.
But while calling for harsher measures against the Palestine solidarity movement, the report offers no new ideas to deal with how Israel is beset not by an image problem but a reality problem: its regime of occupation, settler-colonialism and apartheid is increasingly viewed around the world as reprehensible and unsustainable, even by many of Israel's defenders.
The report nevertheless identifies key concerns and likely targets of Israel's propaganda planners.
Even while attempting to come up with a formula to defeat it, the report admits that the movement for Palestinian rights is based on "appealing and sophisticated" arguments which Israel has so far failed to match.
Fair Use Notice
This site contains copyrighted material the use of which has not always been specifically authorized by the copyright owner. We are making such material available in our efforts to advance understanding of environmental, political, human rights, economic, democracy, scientific, and social justice issues, etc. We believe this constitutes a 'fair use' of any such copyrighted material as provided for in section 107 of the US Copyright Law. In accordance with Title 17 U.S.C. Section 107, the material on this site is distributed without profit to those who have expressed a prior interest in receiving the included information for research and educational purposes. For more information go to: http://www.law.cornell.edu/uscode/17/107.shtml . If you wish to use copyrighted material from this site for purposes of your own that go beyond 'fair use', you must obtain permission from the copyright owner.