Details

Written by Institute for Christian-Muslim Understanding

Institute for Christian-Muslim Understanding

Published: 06 October 2011

06 October 2011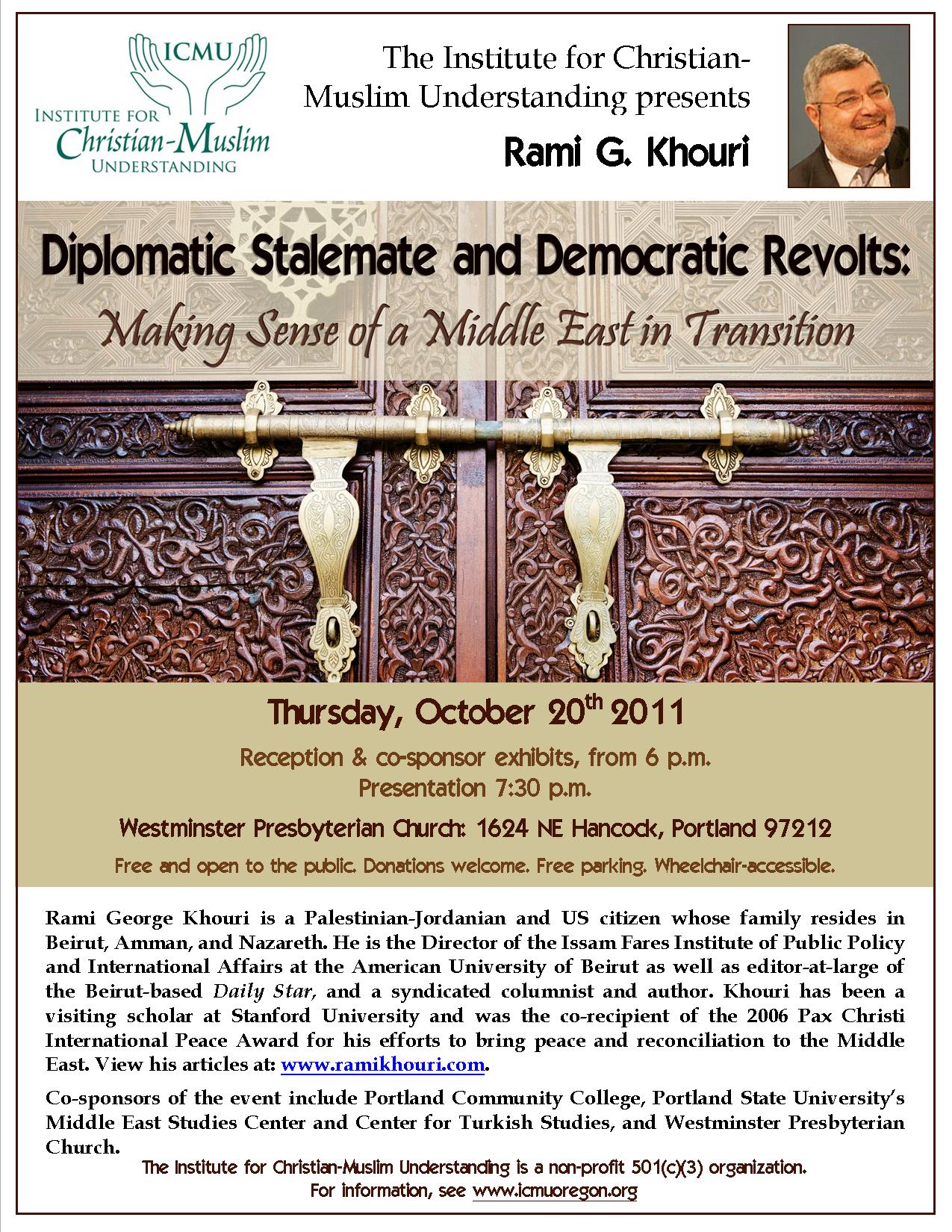 Details

Written by Harriet Sherwood in Ramallah

Harriet Sherwood in Ramallah

Published: 30 September 2011

30 September 2011
Israel's occupation of the West Bank and Gaza deprives the Palestinian economy of almost £4.4bn a year, equivalent to about 85% of the nominal gross domestic product of Palestine, according to a report published in Ramallah .

Economy minister Hasan Abu Libdeh says that Palestinians are prevented from achieving their potential

[PHOTO:
Palestinian farmer Mussa Samamreh, right, inspects the broken branches of his olive trees near the village of Shuweike, which local residents say were destroyed by Israeli settlers. Photograph: Abed al-Hashlamoun/EPA]

Israel's occupation of the West Bank and Gaza deprives the Palestinian economy of almost £4.4bn a year, equivalent to about 85% of the nominal gross domestic product of Palestine, according to a report published in Ramallah .

As well as its detrimental effect on the Palestinian economy, the "occupation enterprise" allows the state of Israel and commercial firms to profit from Palestinian natural resources and tourist potential, the report said.

"No matter what the Palestinian people achieve by our own efforts, the occupation prevents us achieving our potential as a free people in our own country," said Hasan Abu Libdeh, economy minister in the Palestinian Authority, introducing the report on Thursday. "It should be clear to the international community that one reason for Israel's refusal to act in good faith as a partner for peace is the profits it makes as an occupying power."

Without the occupation, the Palestinian economy would be almost twice as large as it is and would be able to reduce its dependence on donor funding from the international community, according to the report.
Read more: Israeli occupation hitting Palestinian economy: costs Palestianians 85% of gross domestic product
Details

Written by Harriet Sherwood

Harriet Sherwood

Published: 28 September 2011

28 September 2011
Youngsters in West Bank village were forced out of bed for Israeli military 'mapping' exercise
"The photos were taken for what the army calls 'mapping': the army did not have any basis for suspecting any particular minor they awoke to photograph, but they wanted to build a reservoir of pictures they could later use for identification purposes, should the minor be involved in stone-throwing or other violent activity. In response to a report on the issue which was broadcast on Channel 10 News, the army said that 'it uses a variety of means to maintain order and security'."

Read more: Palestinian children woken in night to be photographed by soldiers
Details

Written by ANNIE on MondoWeiss

ANNIE on MondoWeiss

Published: 26 September 2011

26 September 2011
After an extensive investigation the Turkish government has released the names of the IDF soldiers who participated in the attack on the Mavi Marmara. This news broke today in Sabah, a Turkish newspaper.

The search for the identities of IDF soldiers who participated in the deadly Flotilla raid began after Turkish intelligence demanded the information from Israel who refused to release the information. The Turkish government has requested an apology from Israel as well as compensation for victims of the attack and lifting the blockade on Gaza to abort this investigation. After Israel refused the Turkish government warned they would pursue criminal charges against individuals who participated in the attack. The prosecutor conducting the investigation on the Mavi Marmara raid is Mehmet Akif Ekinci of Turkey's Ministry of Justice.

The Turkish Intelligence Service as well as other agencies have conducted the identification and image hunt by meticulously combing thru all video and photographic evidence available thru worldwide media including leads thru thousands of facebook and twitter accounts. Members of the crew as well as passengers on the Mavi Marmara also participated in the investigation. Turkish experts in Hebrew were vital in following leads thru Israeli social media sites.

IDF soldiers who have been identified thus far are:

Agai Yehezkel, Aharon Haliwa, Alex Shakliar, Amir Ulo, Amir Abste, Amir Shimon Ashel, Anna Strelski, Anton Siomin, Aram Zehavi, Ariel Brickman, Ariel Karo, Ariel Rifkin, Ariel Yochanan, Arnon Avital, Assaf Bryt, Avi Balut, Avi Bnayahu, Avi Mizrakhi, Avi Peled, Aviad Perri, Aviel Siman, Avihay Wizman, Avihu Ben Zahar, Avishay Levi, Avishay Shasha, Aviv Edri, Aviv Kochavi, Aviv Mendelowitz, Baruch (Barry) Berlinsky, Basam Alian, Ben-Zion (Benzi) Gruver, Bnaya Sarel, Boaz Dabush, Boaz Rubin, Boris Schuster, Dado Bar- Kalifa, Dan Dolberg, Dan Harel, Daniel Kotler, David Shapira, David Slovozkoi, David Zini, Eden Atias, Eden Atias, Efraim Aviad Tehila, Efraim Avni, Eitan Ben-Gad, Elad Chachkis, Elad Itzik, Elad Shoshan, Elad Yakobson, Eli Fadida, Eli Yafe, Eliezer Shkedi, Elik Sror, Eran Karisi, Erez Sa'adon, Eyal Eizenberg, Eyal Handelman, Eyal Zukowsky, Gil Shen, Gur Rozenblat, Gur Schreibmann, Guy Givoni, Guy Hazut, Haggai Amar, Hanan Schwart, Harel Naaman, Hila Yafe, Ido Nechushtan, Ilan Malka, Itay Virob, Liran Nachman, Michelle Ben-Baruch, Miki Ohayon, Moshe Tamir, Nadav Musa, Nathan Be'eri, Nezah Rubin, Nimrod Schefer, Nir Ben-David, Nir Dupet, Nir Ohayon, Niv Samban, Noam Keshwisky, Ofek Gal, Ofer Lahad, Ofer Levi, Ofer Winter, Ofer Zafrir, Ofir Edri, Ohad Girhish, Ohad Najme, Omer Dori, Omri Dover, Or Nelkenbaum, Oren Bersano, Oren Cohen, Oren Kupitz, Oren Zini, Pinkhas Buchris, Raz Sarig, Ron Asherov, Ron Levinger, Ron Shirto, Ronen Dan, Ronen Dogmi, Roi Elkabetz, Roi Oppenheimer, Roi Weinberger, Sahar Abargel, Shai Belaich, Shaked Galin, Sharon Itach, Shaul Badusa, Shay Unger, Shimon Siso, Shiran Mussa, Shlomit Tako, Tal Alkobi, Tal Bendel, Tal Kommemi, Tal Ruso, Tamir Oren, Tamir Yadai, Tom Cohen, Tomer Meltzmann, Geva Rapp, Tslil Birbir, Udi Sagie, Uri Ron, Yair Keinan, Yair Palay, Ya'akov(Yaki) Dolf, Yaniv Zolicha, Yaron,Finkelman, Yaron Simsulo, Yehosua (Shuki) Ribak, Yehu Ofer, Yehuda Fuchs, Yehuda Hacohen, Yigal Slovik, Yigal Sudri, Yizhar Yona, Yoav Galant, Yoav Gertner, Yoav Mordechai, Yochai Siemann, Yochanan Locker, Yom-Tov Samia, Yonathan Barenski, Yonathan Felman, Yoni Weitzner, Yossi Abuzaglo, Yossi Bahar, Yossi Beidaz, Yotam Dadon, Yishai Ankri, Yishai Green, Yuval Halamish, Zion Bramli, Zion Shankour, Ziv Danieli, Ziv Trabelsi, Zuf Salomon, Zvi Fogel, Zvi Yehuda Kelner.

There remain IDF soldiers who have yet to be identified by name although their images are familiar to investigators.