Details

Written by Zaha Hassan

Zaha Hassan

Published: 03 August 2018

03 August 2018
"Continuing services to refugees is a right, not a handout."
This was the message last week of one of the thousands in Gaza who came out to protest the UN Relief and Works Agency's (UNRWA) decision to not renew 154 employment contracts in the occupied Palestinian territory. Despite UNRWA's best efforts, it has not been able to make up its current $250 million budget shortfallresulting from the U.S. decision to slash its contributions to the refugee agency.
Almost 12,500 Palestinians in Gaza are dependent on an UNRWA paycheck, which in many cases helps sustain more than just the nuclear family in the enclave where the unemployment rate is over 40%. It is unclear whether there will be enough funding for the 262,000 children in Gaza's UNRWA schools to return to their classrooms this academic year.
The existential threat facing UNRWA is deliberate, and so are the dire consequences for the 5.3 million registered refugees it serves. President Donald Trump and his Middle East Team headed by advisor, Jared Kushner, have latched onto the idea that humanitarian relief may be used as leverage to force the Palestinian leadership back to a negotiating table set by Israel. Leaked details of the Kushner-crafted peace plan indicate that it is nothing more than a souped up, donor-infused version of the status quo that Israel seeks to have legitimated with the signature of President Mahmoud Abbas. The Palestinian leader has infuriated the Administration by refusing to engage with it on these terms and so the Administration—along with the Republican-controlled Congress—has been tightening the financial noose around Palestinians.
[From the Journal of Palestine Studies | UNRWA and the Refugees: A Difficult but Lasting Marriage]
The idea of weaponizing humanitarian assistance provided to Palestinians is not new but it has never before found the currency it now has in the White House. Of late, right-wing think tanks, pro-"Greater Israel" Washington lobby groups and the "no daylight between Israel and the U.S." politicians have been peddling the fiction that humanitarian relief to Palestinian refugees has been growing by leaps and bonds. They argue that aid money that maintains the camp infrastructure and enables the provision of essential services and work opportunities perpetuates refugeehood.
Details

Written by Jewish Voice for Peace Health Advisory Council

Jewish Voice for Peace Health Advisory Council

Published: 26 April 2018

26 April 2018
The Jewish Voice for Peace Health Advisory Council (JVP HAC) issues this statement out of grave concern about the Israeli Military's use of excessive force, including live ammunition and tear gas against protesters in Gaza. For the past four Fridays, demonstrators within Gaza were met by the Israeli military firing live ammunition, rubber-coated bullets, and teargas across the border fence. The disproportional response of the Israeli military to a mostly unarmed civilian demonstration reflects a disregard for the basic human rights of Palestinians and for the safety and health of the people of the besieged Gaza Strip, where dire humanitarian conditions exist. This military response violates international law. Of further concern is the obstruction by the Israeli and the United States governments to the United Nations' issuing a statement condemning these actions. 
According to the New York Times, the Israeli military response to these protests has resulted in 37 deaths (4 people under the age of 18) and over 3000 wounded. 
Over 1000 of the wounded were hit by live ammunition, 300 by rubber-coated bullets, and 1000 by large doses of tear gas. Among those targeted were journalists (wearing identifying vests)—1 was killed and at least 6 have been wounded, and medics. Those with lethal wounds were shot in the chest, the back, and abdomen. Many also had been shot in the legs, pelvis, and hands.  There have been no Israeli injuries. 
Read more: Emergency statement: Gaza protests and Israel's military response
Details

Written by Neve Gordon

Neve Gordon

Published: 01 April 2018

01 April 2018
The Passover massacre in Gaza was by no means an exception in the long history of Palestinian resistance.
For decades Zionists have blamed the Palestinians for Israel's ongoing colonial project. "If only the Palestinians had a Mahatma Gandhi," many Israeli liberals have exclaimed, "then the occupation would end."
But if one truly wished to find Palestinian Mahatma Gandhis all one needed to do is look at the images of protesters on Friday night's news broadcasts. An estimated 30,000 Palestinians joined the nonviolent March of Return, which aimed to set up a few camps several hundred meters from the militarised fence surrounding the Gaza Strip. Their goal was to protest their incarceration in the world's largest open-air prison as well as the massive confiscation of their ancestral land - after all, 70 percent of Gaza's population are 1948 refugees whose families had owned land in what became Israel. 
As Gaza's residents marched towards the militarised fence, I sat with my family, reciting the Haggadah for the Passover holiday, which tells us that "In every generation, it is one's duty to regard oneself as though he or she personally had gone out of Egypt". In other words, while the soldiers shot live bullets at the peaceful demonstrators, these soldiers' parents were being asked to imagine what it means to live in Gaza and what it would take to liberate oneself from such captivity.  And as my family went on to sing, "No more shall they in bondage toil, let my people go," news sites reported that the number of Palestinians killed had reached 17, while several hundred had been wounded.
The accusation that Palestinians have failed to adopt non-violent methods of resistance, and therefore share responsibility for Israel's ongoing subjugation and dispossession, not only completely disavows the vast asymmetry in power relations between the coloniser and colonised, but, just as importantly, fails to consider the political history of anticolonial struggles, not least the Palestinian one itself.  Indeed, it completely ignores the fact that Israel's colonial project has been upheld through attritional, protracted and widespread violence, and, despite what certain Western media outlets might present, the Palestinians have developed a robust and long-standing tradition of non-violent resistance. Moreover, the demand to adopt a non-violent ideology completely elides the history of other liberation struggles: from Algiers to Vietnam and all the way back to South Africa. 
Details

Written by Basem Tamimi with the Avaaz team

Basem Tamimi with the Avaaz team

Published: 25 January 2018

25 January 2018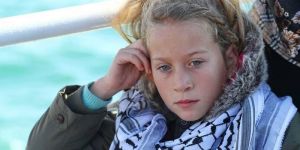 My 16-year-old daughter was dragged out of her bed in the dead of night and arrested. Even though she is just a child, the military refused to release her. She could spend years in jail. I have dedicated my life to civil resistance in Palestine. That's why the Israeli army is holding my baby -- they want to crush my spirit. All I want is to hold my daughter again. With one click, please join my appeal to get her out:



Dear friends, 
Days ago soldiers 
stormed my house in the dead of night and dragged my 16-year-old daughter to prison. 
Now my little girl is in a cold cell.
I have dedicated my life to civil resistance. That's why the army is holding my baby -- they want to crush our spirit. But I have been a member of Avaaz for eight years -- I h
ave seen the power of this community if we all stand together against injustice. 
My little girl's case goes to court on 31 January -- but Israel's military courts convict 99% of Palestinians, even if they are kids. 
Please join my urgent call below with one click 
-- we'll deliver it directly to global leaders: 
Help free my daughter Ahed
Read more: Message from Basem Tamimi: Help free my daughter Ahed
Details

Written by Sara Roy

Sara Roy

Published: 25 January 2018

25 January 2018
A potential calamity is looming in the Middle East, a calamity of the United States' making that is inimical to our interests and investments. I am referring to Donald Trump's decision to slash a promised installment of funding for the United Nations Relief and Works Agency (UNRWA)—the international agency responsible for the welfare of 5.6 million Palestinian refugees in Jordan, Lebanon, Syria, Gaza, and the West Bank—while effectively freezing additional funding for the foreseeable future.
The news dropped on January 16, when the State Department sent a letter to UNRWA announcing that it would be withholding $65 million of a planned $125 million payment to the agency. Two days later, the State Department announced that it would also be halting a $45 million payment it had pledged to UNRWA in December, in that case for food aid for the West Bank and Gaza. While a State Department spokesperson insisted that the cuts were "not aimed at punishing anyone," punishment certainly seemed to be on Trump's mind when he tweeted two weeks earlier, "with the Palestinians no longer willing to talk peace, why should we make any of these massive future payments to them?" The implication seemed clear: The Trump administration would slash aid to Palestinians as long as the Palestinian Authority (PA) refused to engage in US-backed negotiations with Israel.

It's worth pausing for a moment to consider that the PA's refusal to engage in negotiations stems entirely from Trump's own actions—specifically, his formal recognition of Jerusalem as Israel's capital; this move not only dismissed Palestinian claims to the city but effectively predetermined the outcome of future negotiations. Moreover, it should be noted that the entity through which the Trump administration is now exacting its punishment is a humanitarian agency, not a political one, and it has never been involved in any peace negotiations between Israel and the Palestinians. Yet, despite its vital role, the Trump administration has opted to slash UNRWA's resources, sparking what agency spokesperson Christopher Gunness described as "the most serious financial crisis in UNRWA's 70-year history."
This isn't hyperbole. The United States contributes almost 30 percent of UNRWA's annual budget, or $364 million a year. The loss of nearly a third of its budget, should the Trump administration continue to withhold payments, would force the agency to significantly scale back or suspend its services in many vital areas, or to move swiftly to persuade other donors to fill the gap. Even a partial defunding of UNRWA by the United States would have severe consequences.
Subcategories
The latest news from the Joomla! Team
Fair Use Notice
This site contains copyrighted material the use of which has not always been specifically authorized by the copyright owner. We are making such material available in our efforts to advance understanding of environmental, political, human rights, economic, democracy, scientific, and social justice issues, etc. We believe this constitutes a 'fair use' of any such copyrighted material as provided for in section 107 of the US Copyright Law. In accordance with Title 17 U.S.C. Section 107, the material on this site is distributed without profit to those who have expressed a prior interest in receiving the included information for research and educational purposes. For more information go to: http://www.law.cornell.edu/uscode/17/107.shtml . If you wish to use copyrighted material from this site for purposes of your own that go beyond 'fair use', you must obtain permission from the copyright owner.